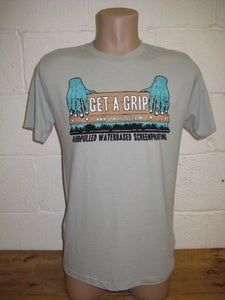 £

8.00
Reasons why you might want to buy a GET A GRIP T-shirt
1. To scope out our printing skills
2. To check out what the deal is with these waterbased inks we keep going on about
3. To see that organic, carbon neutral and sweatshop free merchandise doesn't have to cost loads, and doesn't just come in 'off-white' and a bad fit. And why we would love it if you switched to EarthPositive Apparel for your next print order.
4. Because you love Lee Nutland's sweet illustration design
5. Because you want to help GET A GRIP
6. Because it's nearly summer and you need a new T-shirt
Whatever your reason, these 4 colour T-shirts are only going to set you back £8 including free delivery within the UK. Heck, we'll even throw in some badges and stuff to sweeten the deal. Look out for more sample stuff to come soon...